INTEGREX - MEDICAL AIR GENERATORS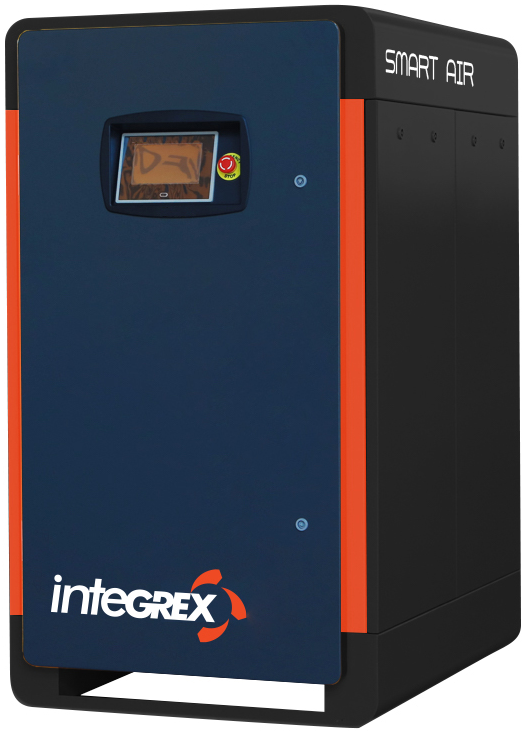 A SCALABLE, MODULAR & HIGHLY REDUNDANT SYSTEM
integrex (patent-pending) is a new age medical air generator that generates clean, oil-free and dry compressed air for medical applications with quality in accordance with ISO & HTM standards.
A true innovation – integrex has been created as an affordable answer to quick scalability and energy-saving. It generates oil-free, dry and contamination-free medical air for hospitals and healthcare facilities of all sizes.
All integrated and modular, it comes in a sleek and smart package.
THE MODULAR DESIGN PHILOSOPHY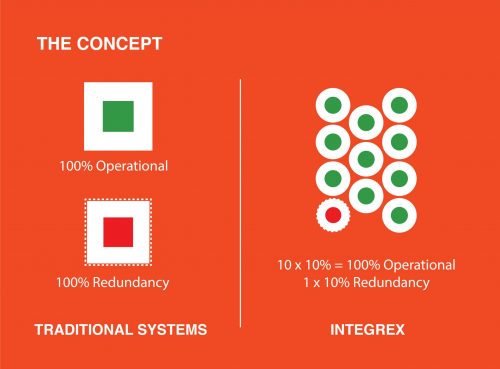 integrex is a fully modular system that integrates a number of compressor modules to meet a larger demand. The modular ingenuity of the system is highly adaptable to individual requirements, allows for smart redundancy and comes with a host of other practical benefits.
EASY SCALABILITY
The modular design offer you the flexibility to increase the capacity of your medical air generator as your facility grows. The result is improved efficiency and lowest cost of ownership.


EFFICIENT REDUNDANCY
For redundancy, you don't need to back up the entire system, you can just add 1 or more modules according to your needs. This n+1 approach ensures maximum availability.


SMART OPERATION
The fully automatic control system operates only the number of modules that are required to meet the demand. Very much like your VRV/VRF HVAC system. This results in tremendous savings in electricity.
A SIMPLE, SMART & SENSIBLE SOLUTION
integrex consists of a bank of compressors, air receiver(s), dryer(s), filter(s), pressure regulators, control system, and ancillaries – all integrated into a smart package and on a single frame.
The otherwise noisiest equipment in your hospital is now super-silent.
With negligible vibrations, it requires no foundation, ensuring zero placement issues. Have it installed on the terrace if you'd like
Fits easily in tight spaces. With 85% space-saving, it can fit anywhere in the facility.
The otherwise one of the most energy-intensive equipment in your hospital is now energy-efficient. Save lakhs of rupees every year in electricity costs.
integrex generates medical air, in accordance with ISO & HTM standards, for hospitals and medical institutions employing respiratory equipment of any type.
integrex can cater to 2 to 50+ respiratory equipment simultaneously.
HIGHEST QUALITY MEDICAL AIR
No amount of filtration can completely remove the contamination caused by using a lubricated compressor. integrex medical air generator does not have a single drop of oil anywhere in the system – ruling out any possibility of oil contamination of the air going into your patient's lungs.
HAVE A QUESTION?
WE ARE HERE TO HELP!
Reach out to us to know what solution fits your needs the best. We are available 24×7 for support.